news
CHECK HERE FOR THE LATEST NEWS AND DETAILS OF OUR 'OUT & ABOUT' WALKS
NEWS
2019
Our Next Weds Walk will be on 27th Feb.
Walking from Seaview to Quarr.
Open to anyone wh loves Nordic Walking.
Contact me for all the details.
Our next Weds walk will be on 30th Jan, from Bembridge to Seaview.
This is an approx 7 mile walk with a coffee stop. There is an option to join part way for a shorter route.
Iv emailed the details out. If you are a Nordic Walker and would like to join in,
please message me for more details.
GIFT VOUCHERS ARE AVAILABLE ALL YEAR ROUND.
IDEAL FOR BIRTHDAY PRESENTS TOO.
HAPPY NEW YEAR!
I hope you all had a great time.
Come and work off those January bulges and blues.
CLASSES START BACK TUES 8TH JANUARY.
I look forward to seeing you all.
2018
GIFT VOUCHERS NOW AVAILABLE
GIFT VOUCHER entitles 1 person to 5 sessions to be used up within 1 half term block.
OR
1 or 2 people together, to have 1 private session at a time to suit them.
POLES AVAILABLE TO HIRE AT £1 PER SESSION.
We had a lovely walk from Yaverland to Shanklin this month.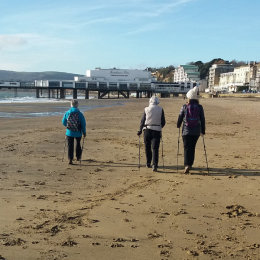 NEXT WEDS WALK IS DECEMBER 12TH. SANDOWN TO NEWCHURCH.
APPROX 5 MILES WITH MIDWAY COFFEE/TOILET STOP.
BOOKING ESSENTIAL (please contact me if you would like to join us)
Please book if you would like to come.
£5 for regular walkers. £7.50 for occasional walkers.
Plus £1 if poles required.
MEN WANTED
This could be a great way to exercise for all you men out there.
Good way to keep fit and add an activity to your week if retired.
Nordic Walking is not just for girls! We would love you to join our groups.
Come along and find out why Nordic Walking is a great way to keep fit.
EMAIL ME IF YOU WOULD LIKE TO JOIN
I have recently moved back home to the Isle of Wight and have started Nordic walking around Bembridge & Brading.
I will be running the Nordic Walking groups just as I have done in Dorset for the last 5 years.
So if you live on the Isle of Wight and would like more info, please get in touch.
SEE 'CLASSES' FOR TIMES AND PRICES
BOOKING ESSENTIAL
REGULAR UPDATES ON FACEBOOK
CLICK LINK BELOW TO FOLLOW
__________________________________